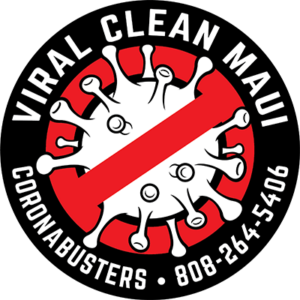 Sanitize & Disinfect Your Home, Workspace, or Vacation Rental
Call for a fast quote!
Call Viral Clean Maui LLC to sanitize your living or work area against all Microbial Pathogenesis, including Coronavirus (COVID-19), according to CDC guidelines.
Viral Clean Maui LLC will sanitize against all Microbial Pathogenesis to include COVID-19 aka Coronaviruses (SARS-CoVs) with the use of UV spectrum lights (both stationary and manual application) as well as the physical application of liquid atomized spray made from ethyl alcohol and natural antibiotic essential oils known for their antiseptic macrobiotic extermination properties.
We use UV Broad Spectrum Ultraviolet Germicidal Irradiation (UVGI), a disinfection method that uses short-wavelength ultraviolet light, to kill or inactivate microorganisms.
We scan UV light on or physically wipe all common use hard surfaces (doorknobs, refrigerator handles, TV remotes, etc.) with our proprietary mixture of disinfectants via liquid atomized spray. This process is recommended by the CDC.
We provide a certificate of disinfection and sterilization each time work is performed.
We set up one UV sterilization device in ONE room, i.e. kitchen and disinfect a living room, to include physically wiping or scanning of UV light on all hard surfaces of common use such as door knobs, drawers, toilet knobs, closet doors, shower door handles, kitchen cabinet doors and drawers, stove handles, refrigerator handles, sliding glass door handles, TV remotes, microwave door handles, light switches, blinds control rods, lamp switches, faucet knobs, and fan chains or remotes. We will then provide a certificate of disinfection and sterilization each time work is performed. This certificate can be hung on the door knob or places out to be viewed by the new guest to give them the assurance that the unit they are going to be staying in has been disinfected and sterilized.
Viral Clean Maui LLC Technicians are Essential Critical Infrastructure Workers within CISA's guidance as they are critical to the provision of services for the necessary maintenance, cleaning and sanitation of environmental surfaces found in residential, commercial, and institutional environments.

Call us today! 808-264-5406
We understand that many of our Customers have questions about our services and the steps we are taking to ensure their safety and that of our employees. Our teams are actively monitoring communications from the Centers for Disease Control and Prevention ("CDC"), the World Health Organization ("WHO"), and federal agencies to ensure we are operating consistent with the latest guidance to contain the spread of SARS-CoV-2 , the cause of COVID-19.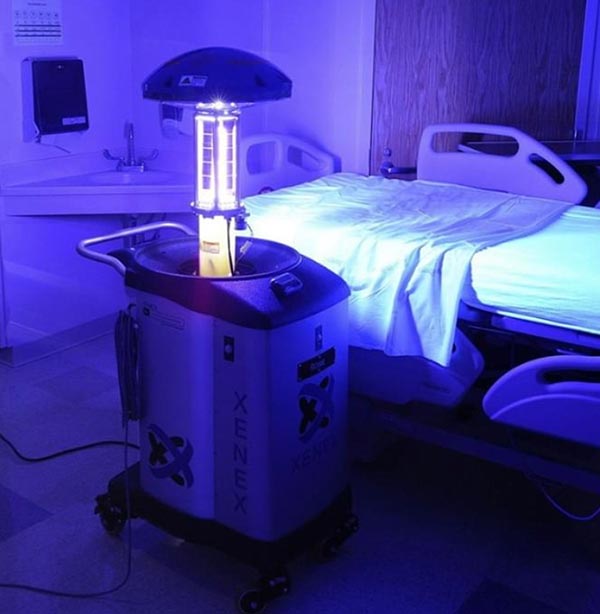 According to the CDC, disinfection is the necessary first step of any proactive process. Cleaning only removes organic matter, salts, and visible soils, all of which interfere with microbial inactivation. The physical action of scrubbing with detergents and surfactants and rinsing with water removes substantial numbers of microorganisms. If a surface is not cleaned first, the success of the disinfection process can be compromised. For more information about the critical importance of cleaning, we encourage you to visit the CDC for more information on how to Protect Your Home.
The CDC has said that disinfecting your home and workspace properly can help fight against Coronavirus. We have the equipment and the team of professionals to tackle projects large and small so you can sleep soundly.
Do you own a condo or vacation rental?
Call Viral Clean Maui LLC immediately if you have a confirmed COVID-19 exposure or want to be proactive prior to reopening your condo or vacation rental and we can discuss the options and how we can help.
Visitors can bring to into your rental germs and organisms from their Countries, States, or their adventures on Maui, even from the neighbors and just about anywhere, as you know once a person in the unit is ill; chances are it will affect everyone in the unit will become ill.
Even if you keep your unit clean and free of germs, chances of someone being exposed should be considered, Viral Clean Maui LLC disinfection and sterilization will make sure your condo or vacation rental is safe and secure.
Call us today! 808-264-5406
Viral Clean Maui LLC does not guarantee or imply that all viral bacteria will be removed from all hard surfaces. There is no guarantee that all viruses will be killed and/or removed from all surfaces that have been treated. Viral Clean Maui LLC will disinfect and sanitize all surfaces that we are capable of making contact with but under no circumstances do we guarantee that these surfaces will remain germfree, bacteria free, or virus free. Client understands this disclosure statement and will not hold harmless Viral Clean Maui LLC.
The intent of this Agreement is to indemnify Promisee from any claims arising from and related to the disinfection and/or Sanitization of clients property located in Maui Hawaii Promisor shall fully defend, indemnify and hold harmless Promisee from any claims, demands, lawsuits, causes of action, liability loss, damage or injury without limitation. These may include claims regarding personal injury, property damage and monetary loss.
In the event any claim or suit is brought against Promisee, Promisor shall pay for legal counsel to defend against claims that are within the scope of this agreement.
Should any party to this agreement file suit in a court of law to enforce or interpret this Agreement, the prevailing party shall be entitled to any legal fees incurred in defending against a third party claim as well as reasonable legal fees and costs incurred in an effort to enforce or interpret this Agreement.
This agreement shall be interpreted under the laws of the State of Hawaii.